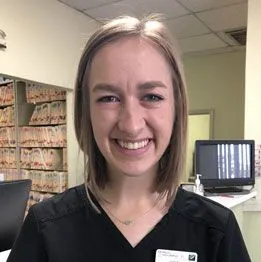 Before I had the pleasure of working side-by-side with Dr. Durrett and the rest of the staff, I was just an ordinary patient here, seeking chiropractic care. For four years I have been so blessed by Dr. Durrett's wealth of knowledge about the body, and I have come to love and appreciate her naturalistic approach to health and wellness through chiropractic care all the more.
I am currently a part-time staff member here, but I am looking forward to being here for many years. Dr. Durrett has changed my life, and I am eager to see others truly benefit from her chiropractic care.
As her Front Desk Manager, I look forward to meeting and getting to know every face that walks through the front doors. I make it my goal to ensure every patient feels loved and gets the treatment they need in a timely manner.
I am so blessed to be here and I cannot wait to see the all lives God brings here for us to impact!